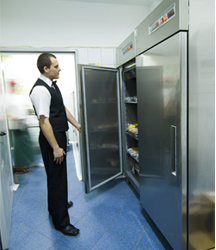 PROTECH is a licensed contractor for most refrigeration manufacturers. We offer a complete line of services for commercial freezers and refrigeration systems. PROTECH guarantees, fast effective service on all types of commercial & industrial refrigeration equipment.
Our 24 hour in-house service team consists of qualified refrigeration technicians who are available to ensure, 24 hour emergency service for all breakdowns. PROTECH will provide reliable installation and prompt servicing.
Installation and servicing your commercial freezers, and commercial refrigeration equipment
Installation and servicing your commercial and industrial walk in coolers and walk in freezers
Completing HVAC service maintenance for your industrial cooling units—thorough preventive maintenance as part of a regular service contract and guaranteed immediate attention in emergencies.
Offering expert HVAC services and consulting for your industrial cooling and commercial refrigeration equipment.
PROTECH is also happy to serve homeowners in need of refrigeration repair and servicing.